I-90 Frontage on the Golden Corridor
Huntley Corporate Park is adjacent to Interstate 90. This location provides all the transportation, labor, and utility benefits of being within the Chicago market, AND holds the significant advantage of being located among the lowest costs areas of any major metropolitan city in the Midwest. Additionally, Huntley's new full-access Interstate 90 interchange is now open.
Interstate 90
Interstate 90 ("I-90") is the primary interstate highway in the area. In addition to providing high-speed transit and direct highway access to local roads, communities, and amenities, I-90 also provides access to Rockford to the west, Chicago to the east, and extends coast-to-coast from Seattle to Boston.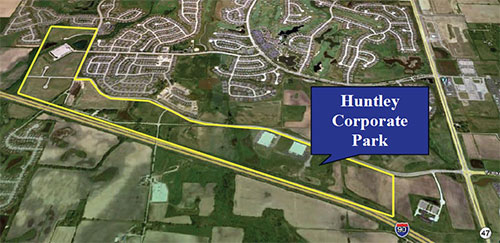 Golden Corridor
The Golden Corridor connects Chicago and Rockford, two of the largest cities in Illinois. The name arises from the "gold mine" of economic development along the Corridor. The Corridor includes an area along the Jane Addams Memorial Tollway, formerly known as the Northwest Tollway (Interstate 90) in the Chicago metropolitan area. Fortune 500 company headquarters, office parks, industrial parks, exhibition and entertainment centers, medical facilities, hotels, shopping centers, and restaurants are located along the Golden Corridor. The Golden Corridor is also home to numerous foreign firms, many from Japan and the Far East.
Major Companies
Many major companies are headquartered in or have a significant presence in the Golden Corridor including:
FYH Bearings (Huntley)
LDI Industries (Huntley)
Cargo Equipment (Huntley)
Rohrer Corporation (Huntley)
Lionheart (Huntley)
Inglese Box Company (Huntley)
Weber-Stephen Products (Huntley)
Dean Foods (Huntley)
Union Special (Huntley)
Sears Holdings (Hoffman Estates)
Motorola Solutions (Schaumburg)
United Airlines (Elk Grove Village)
Affiliated Computer Services (Schaumburg)
The Nielsen Company (Schaumburg)
Automatic Data Processing (Hoffman Estates)
U.S. Robotics (Schaumburg)
Zurich Financial Services (Schaumburg)
Siemens Medical Solutions (Hoffman Estates)
FANUC Robotics (Hoffman Estates)
Mori Seiki (Rolling Meadows)
NEC Display Solutions (Itasca)
Omron (Schaumburg)
STMicroelectronics (Schaumburg)
Mazak (Schaumburg)
THK (Schaumburg)
Sprint Nextel (Itasca)
Verizon Wireless (Elgin)
Safeco (Schaumburg)
Experian (Schaumburg)
InstallShield (Schaumburg)
BMW of North America (Schaumburg)
Travel Times
Elgin: 5 minutes
Schaumburg: 30 minutes
O'Hare International Airport: 40 minutes
Rockford: 45 minutes
Chicago: 60 minutes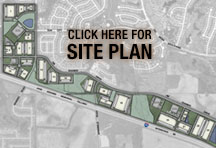 240 acres, fully improved
build-to-suit sites from 1.81 to 17 acres
custom designed office, industrial, and warehouse facilities
20,000 to 250,000 sf
I-90 exposure, accessibility
for more information: