Why Huntley?
Located in suburban Chicago's "Golden Corridor" at the crossroads of Interstate 90 and Route 47, Huntley is among the fastest growing communities in the Chicago area and is a vibrant business-friendly community offering unique benefits to business:
Highlights
Located within 30 miles of O'Hare International Airport and Chicago-Rockford Airport
2.7 million residents within 30 miles
6 interstate highways within 30 miles
Among the lowest wage rates in metro Chicago
Efficient and swift municipal approvals through fast track permitting
Over 8,000 residential building permits issued over the last decade
Award-winning schools and parks
Huntley Outlet Center boasts 50 major retailers
Business-friendly village board focused on economic development activities
New 128-room hospital expected to open in 2016
Over $100 million in roadway improvements (Rt. 47 widening and new I-90 interchange)
Huntley Corporate Park Offers...
Economical alternative with land prices up to 20% lower than locations in Elgin 5 minutes to the east, resulting in significantly lower project costs
Located within Foreign Trade Zone 176 providing importers and exporters important international trade and cost benefits
Among the lowest wage rates in Metro Chicago - lower than most other major Midwestern cities
Expanded high voltage electrical distribution network with multi-source supply
Business-friendly and professional Village Board focused on economic development activities
Acclaimed municipal government leadership in the areas of finance, public safety and public works
Direct backbone access to fiber optic communications
Property taxes and water/sewer rates significantly lower than those of Cook County
Wastewater treatment facility capacity to accommodate major business expansion and relocation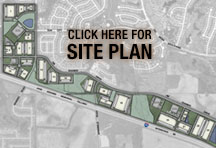 240 acres, fully improved
build-to-suit sites from 1.81 to 17 acres
custom designed office, industrial, and warehouse facilities
20,000 to 250,000 sf
I-90 exposure, accessibility
for more information: