Transportation, Communications & Logistics
With a central location and extensive transportation network, Huntley is a desirable base for companies that need to connect employees and goods with the Chicago area, the country, and the globe.
Roadway Network
Huntley boasts one of the most modern, high capacity roadway networks in the Chicago area. The community's major north-south roadway, Illinois Route 47, has been completely reconstructed and expanded to 6 lanes at a cost of $24 million. In November 2013, work was completed on a $59 million, completely new, expanded 7-lane full-access interchange at the intersection of Interstate 90 and Illinois Route 47. And, improvements to the Algonquin Road and Kreutzer Road arterials in excess of $10 million have significantly enhanced traffic flow to other commercial areas. Only two states have more interstate miles than Illinois. While Huntley claims an excellent roadway network, Illinois lies at the heart of the nation's interstate highway system. In all, 2,169 miles of interstate highway serve Illinois.
Interstates in Illinois
interstate
type
IN HUNTLEY
I-90
coast-to-coast
CHICAGO-ROCKFORD METRO AREA
I-39
north-south
I-55
north-south
I-80
coast-to-coast
I-88
east-west
I-94
east-west
WITHIN ILLINOIS
I-24
east-west
I-57
north-south
I-64
east-west
I-70
coast-to-coast
I-72
east-west
I-74
east-west
Air
Huntley, located in northwest suburban Chicago, is unique among the nation's communities. Not only is Huntley located within 30 miles of two international airports (O'Hare International and Chicago-Rockford International Airports), it is served as a hub to three major carriers: United Airlines and American Airlines at O'Hare International Airport and Southwest Airlines at Midway Airport. Sixty carriers fly non-stop from Chicago to 192 cities. Air service is also available at the following locations:
| | | |
| --- | --- | --- |
| Airport | Service Area | Service Type* |
| | | |
| O'Hare International Airport | International | commercial, cargo, charter, private |
| Chicago Midway International Airport | International | commercial, cargo, charter, private |
| Rockford-Chicago International Airport | Domestic | commercial, cargo, charter, private |
| Chicago Executive Airport (Palwaukee) | Regional | private |
| Lake in the Hills Airport | Regional | private |
| Waukegan National Airport | Domestic | private |
| Mitchell International Airport (Milwaukee) | International | commercial, cargo, charter, private |
* all facilities accommodate private jets
Rail
Chicago is the only city where six Class I railroads converge and exchange freight (BNSF, Canadian National, Canadian Pacific, CSX, Norfolk Southern and Union Pacific). Chicago is the largest rail hub in the country with more than 1,200 trains every daily carrying 75 percent of the nation's freight valued at $350 billion; 37,500 rail freight cars pass through the City every day projected to increase to 67,000 by 2020.
Water Transportation
The Port of Chicago remains the link between the inland-river system, the Great Lakes and the global marketplace. The Port offers shippers 2 large multi-ship facilities. The port is also served by 12 railroads and has direct access to Interstates 90 and 94.
High Speed Communications Fiber
With one of the most powerful fiber optic connections in the nation, Huntley is well suited to meet the data demands of major employers including data centers, call centers, manufacturers and high employment service organizations. Connection to the backbone network is through a 100 percent fiber optic broadband communication network, providing redundant Internet access. A key infrastructure advantage to locating in Huntley is the minimal investment needed to reach major fiber trunk located along Interstate 90.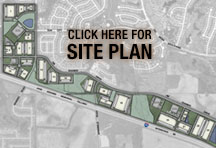 240 acres, fully improved
build-to-suit sites from 1.81 to 17 acres
custom designed office, industrial, and warehouse facilities
20,000 to 250,000 sf
I-90 exposure, accessibility
for more information: